December 16, 2012
Catching up on recent pictures. But here's the one for today.
Three cousins were entranced.
Posted by Tim and Jo at 4:04 PM | Comments (0)
Catching up on recent pictures. But here's the one for today.
Three cousins were entranced.
Posted by Tim and Jo at 4:04 PM | Comments (0)
December 9, 2012
After 8+ years, our toaster oven finally bit the dust. Our replacement has a removable rotisserie. It's been great for making tandoori chicken. Had it for lunch, then the leftovers get tossed with some kind of sauce for easy meals.
December always combines holidays plus semester wrap-up for me, so an easy meal or two always helps smooth the transition.
Posted by Tim and Jo at 11:48 PM | Comments (0)
December 7, 2012
Thanks to Tim's painting skills, and a kind gift from an aunt, we have a pantry. A massive, to-the-ceiling shelving unit for canned goods, and a smaller bookcase for jars and spices.
This made me feel like we've really moved in. Our kitchen...is fully operational (said in a Darth Vader voice).
Posted by Tim and Jo at 11:17 PM | Comments (0)
December 6, 2012
...in our 1970s style, fake wood paneled, brilliant red carpeted basement.
Posted by Tim and Jo at 11:05 PM | Comments (0)
December 5, 2012
Ian loves football. He does not like to throw the ball. He does not like to catch the ball. He does not like to kick the ball.
He likes to play Charlie Brown with the ball. Starring Tim in his supporting role as Lucy.
Posted by Tim and Jo at 5:36 PM | Comments (0)
December 4, 2012
Spent a busy day baking with my sister-in-law and mom. Kitchen conversations as kids played. Eggnog bread, pumpkin bread, pumpkin gingerbread, and cranberry-orange bread.
Posted by Tim and Jo at 11:12 PM | Comments (0)
December 3, 2012
The bittersweet last day of the semester after investing four months into students. Feeling a little maudlin, re-imagining the semester in sonata form, the eager beginning, the whirling middle with the endless variety of my students and the nearly transcendent moments as we work together on hearing music and searching out ideas, and a massive review to bring things to the close. I suppose the final exam could be the coda in this scheme (just hope for the students' sake that it's not in a minor key!)
Posted by Tim and Jo at 11:09 PM | Comments (1)
December 2, 2012
Ian created his own find-a-word puzzle this morning. Our minds were blown, and we laughed because it's so Ian.
He's a quiet kid, but he's found his own voice through writing. He loves writing letters to friends, and now, making his own puzzles.
Posted by Tim and Jo at 6:14 PM | Comments (0)
December 1, 2012
Once again, the December Photo Project has inspired me to reignite our blog.
This morning, we took the kids to a Christmas parade. Bagpipers always make me nostalgic for my alma mater, and for an imaginary Scotland that resides in my mind.
Posted by Tim and Jo at 5:46 PM | Comments (0)
December 24, 2011
Gingerbread pancakes on gingerbread plates in anticipation of the big weekend.

And I have fallen completely in love with Trader Joe's puff pastry. Cream cheese & dark chocolate croissants, and almond & marzipan croissants for today's brunch with immediate family.
Merry Christmas all!
Posted by Tim and Jo at 10:02 PM | Comments (0)
December 22, 2011
Posted by Tim and Jo at 10:20 PM | Comments (0)
December 21, 2011
Kids were quiet and let me sleep in this morning (ya know, 8:15ish--nothing I would have considered sleeping in pre-kids, but pretty great at this stage).
Now, just a few months ago, that would have meant that I would have woken up to some kind of devastation, probably involving massive quantities of spilled food and/or something sticky.
At the lovely age of four (oh yes I love this age, yes I do!), I woke up to their cleverly constructed Chuck E. Cheese redux, with games (crawl into the sleeping bag!), a hand stamp (an old container), and a box of prizes (turn in your ticket for your choice of "beautiful, scary, or funny" prizes, aka, their little toys).
And when it started raining outside, it magically transformed into Noah's Ark, saving all of our lives.
Best of all, when play-time was over, they cleaned it up (with a few nudges from mama, to be sure).
Posted by Tim and Jo at 10:38 PM | Comments (1)
December 20, 2011
She's gone through a lot this year, but she hasn't lost her rollicking sense of humor.
Posted by Tim and Jo at 11:06 PM | Comments (0)
Cousins...another cousin overnight...more cousins. Lots of family-time this December. And lots of cookies!
Got behind because of technical difficulties (hello, crashed laptop!), but here are a few moments from the past few days.
Posted by Tim and Jo at 10:58 PM | Comments (0)
December 15, 2011
One of the realities of the academic life--prime grading season always comes head-to-head with seasonal festivities.
I even know one unnamed professor who wouldn't let his family get their tree up until after all the grading was done.
Not quite as hard core here, but really glad to have the piles finished, and ready to Yule-it-up.
Posted by Tim and Jo at 11:50 PM | Comments (0)
One of the confluences of mama-scholaring. Good friends come over, bringing with them powerful-princess-grading-tiaras. Study breaks involving these friends reading silly stories to the kids (and getting purple kangaroos stuck in everyone's heads).
Posted by Tim and Jo at 11:43 PM | Comments (0)
December 13, 2011
A tradition from Tim's bachelor days, recently revived.
Posted by Tim and Jo at 11:00 PM | Comments (1)
December 12, 2011
"I never heerd...nor read of nor see in picters, any angel in tights and gaiters...but...he's a reg'lar thoroughbred angel for all that."
"As brisk as bees, if not altogether as light as fairies, did the four Pickwickians assemble on the morning of the twenty-second day of December..."

Charles Dickens, The Pickwick Papers
The Pickwick Papers--whether in the BBC film adaptation, a recording of favorite passages read by Charles Laughton, or reading the Christmas passage together--has become one of our favorite Christmas traditions. The innocence and humor and absurdity of the middle-aged eccentrics warms our hearts every go-'round. And it always reminds of our first Pickwickian moment, when our dear, elderly friend Jack pulled the book off the shelf and began reading us the famous "frozen cod-fish won't fit in the hackney coach" passage.
Last year, we even tried to incorporate authentic PIckwickian libations. Unfortunately, those did not make it into our yearly traditions (perhaps "Dog's Nose" and other warm, flat, mulled beer concoctions are some of those Victorian traditions which are better left in the past).
Posted by Tim and Jo at 11:01 PM | Comments (1)
December 11, 2011
Among our many adventures of yesterday...
Posted by Tim and Jo at 8:23 PM | Comments (0)
December 10, 2011
Today was lovely, a string of fun things together as a family.
First, a trip to family morning at the art museum, where we listened to Christmas carols, the kids accompanied the choral group with jingle bells, followed by crafting Christmas cards. Ian was proud of his gingerbread conductor.
Then a nippy picnic and trip to a playground.
We held out the third event of the day as a surprise--a visit to Santa (pics forthcoming), storytelling, and more crafts.

After which, a nap was taken by all before Grandpa & Grandpa drove out to see the newest muppet movie with us.
Pizza, gelato, and an episode of the Pickwick Papers concluded the jollities.
It was a happy, sparkly, almost-too-good-to-be-true day.
Posted by Tim and Jo at 10:13 PM | Comments (1)
December 9, 2011
There once was a frog who lived at Grandma's house. Like Cat in Breakfast at Tiffany's he had no name. He had a relatively peaceful existence and, like Bilbo Baggins, had no need for adventures. Nor any aspirations to hit the big time in Hollywood like his fellow frog, Kermit. Furthermore, he was not green. He was blue and flaky, and one can hardly imagine a frog belting out "It's not easy being blue and flaky..."
Now--lest the reader assume that this is a sentimental Velveteen Rabbit story of a lovely frog whom a child has a dear affection for, and who lives on because of the child's love, even after all his velvet rubbery paint has been rubbed off--we must be absolutely clear that Frog was hideous from the first moment we met him. And sticky.
But Ian found him and loved him in all his rubbery, sticky, griminess. And he named him "Suvvygum," a name whose origin is shrouded in mystery (and yes, Ian's studious parents spent much time trying to discover the etymology of his name).
And, oh, the adventures they have had together! In fact, Suvvygum often stays in the car in anticipation of his next adventure. He also has hidden talents. You can blow him up. He squeaks if you squeeze him just right. And his most distinctive gift, one previously unknown in the amphibious world, is that he can flip himself inside out when he needs to sleep. He looks something like a bloodless heart with flippers sticking out.
So, Suvvygum, we salute you. There is only one Suvvygum, and there is only one Ian. We can't wait to find out what your next adventures will be...

Posted by Tim and Jo at 10:50 PM | Comments (0)
December 8, 2011
Made it for the first time tonight (thanks to TJ's puff pastry!)
Posted by Tim and Jo at 11:57 PM | Comments (1)
December 7, 2011
A couple weeks ago, the kids figured out that they could hang their sheets/blankets up by slipping them through the slats of the top bunk. Since then, playing tent has been a popular game.
Today, it was Noah's ark, complete with Baby Noah and Baby Noah's Ark Wife. Babies squeak a lot at our house. It's a nice boat, with all of the modern conveniences, such as a full-screen TV that plays car and princess movies.
"Once upon a time there was a princess who wanted to be a frog. So she kissed a frog. But Cinderella and Belle said, 'You don't want to be a frog, you want to be a people.' The End."
Posted by Tim and Jo at 11:41 AM | Comments (0)
December 6, 2011
Today is my teaching double-header, so I didn't do too much in between, except fall asleep while watching a Christmas special with the kids.
Decided to pull out a picture I've been dying to share anyways. This Thanksgiving, we hosted for the first time, inviting friends to come join us. And with that, made my first turkey (breast). Always bring sides to the big gathering, so I was a bit apprehensive. And super-happy when it came out brown and pretty! I had found a recipe where you brush the skin with thyme, butter, white wine and garlic.

It was such a fun day, an eclectic group of friends, and relaxed conversation. And a shiny turkey.
Posted by Tim and Jo at 11:43 PM | Comments (0)
Posted by Tim and Jo at 7:53 AM | Comments (0)
December 4, 2011
Last year lives on in our family annals as the Year of Elanor's Christmas Eyeballs. (Here's the story, for those of you who aren't familiar with it).
This year, I made sure that we had plenty of eyeballs on hand. And Elanor, continuing her eyeball kick, created a mutant gingerbread monstrosity.
I think we will call him Blinky.
Posted by Tim and Jo at 11:01 PM | Comments (0)
December 3, 2011
We took the kids to a local Christmas parade for the first time.
They were thrilled. Elanor nearly made herself hoarse shouting "Merry Christmas" to almost everyone who went by. Tim's pockets were stuffed with candy by the time we left. And they wanted to learn the names of each tractor in the caravan that went by. They now know that John Deere tractors are green and Farmall's are red, much to urbanite Tim's chagrin.

Posted by Tim and Jo at 9:31 PM | Comments (1)
December 2, 2011
Santa's loaded lots of goodies on his...school bus.
Have the feeling that bus is past its passenger limit!
Courtesy of Ian, who arranges disparate toys and found objects into collage-like assemblies.
Posted by Tim and Jo at 11:09 PM | Comments (1)
December caught me by surprise. I don't think I even realized it was December until halfway through the day yesterday. So, catching up on my very first post. And with pictures that weren't actually taken yesterday to boot.
But it's become our yearly tradition to visit a little Christmas tree farm near us. And this year, they wanted to help daddy, and surprisingly enough, were able at one point to hoist it off the ground. Their little strong-man-and-strong-woman grunts as they tried to help were hilarious.
Time with daddy frequently turns to daddy school time. I think he's teaching them about tree rings and how branches grow here.
And this brought out our "tool not toy" mantra. He was very careful.
Elanor: I got it!
Ian & Elanor: We'll do it together!
Redux: Let's just help daddy.
Posted by Tim and Jo at 9:19 AM | Comments (0)
December 25, 2010
I really didn't believe it until I saw it--but our kids had their first white Christmas.
And Daddy (aka "Funny Uncle Tim") took all the cousins outside to enjoy it. Hope you all had a lovely Christmas as well!
Posted by Tim and Jo at 10:54 PM | Comments (1)
December 24, 2010
Hope you all have a wonderful Christmas!
Posted by Tim and Jo at 2:44 PM | Comments (0)
December 23, 2010
So, a few weeks ago, Elanor started telling a strange narrative, one that took us awhile to figure out. The story goes something like this:
"Christmas is coming. But not yet. First, it has to snow. Then Santa* is going to come down and bring us presents. And my present is going to be under the tree. And it's going to be wrapped. And I'm going to pick it up and open it, and it's going to be EYEBALLS!"
The first couple of times she told it, I nearly fell over laughing, but I couldn't figure out what she was talking about. It was a stranger request even than the items on their birthday list. Finally we figured it out--it was because of the Picasso Pumpkins! Remember these? Eventually--despite their extra ones--they both lost most of their eyeballs. And Elanor has been worried about them. So, I stopped by Michael's the other day, and picked up a pack of eyeballs.
Tonight, we let the kids open some of their presents. Elanor tore open the paper, shrieked, did a happy dance, and held them aloft in delight before running to her pumpkins to glue them on.

*We've told them that Santa is a pretend game we play for fun, like the babies that live in their pockets. Yes, my children have babies that live in their pockets. If you're handed one of their babies, you should hug it, feed it, and kiss it, but for the love of Pete, don't eat it!
Posted by Tim and Jo at 8:34 PM | Comments (4)
December 22, 2010
Most of us use a roll of wrapping paper to wrap presents. Then there are those avant-garde types who deconstruct and reinterpret, like Ian and Elanor.
To Elanor the paper is a blanket for a picnic
To Ian the roll is a weapon wielded against anyone who might disturb the picnic
Posted by Tim and Jo at 5:39 PM | Comments (0)
December 21, 2010
Posted by Tim and Jo at 10:36 PM | Comments (0)
December 20, 2010
Ian can't quite spit out "gingerbread" yet.
The kids had so much fun making this, I think we're going to cheat a bit and put some more up tomorrow.
The December Photo Project has coincided so well with the stage our kids are at, the first year they really seem able to anticipate fun things coming up. They've reveled in anticipating Christmas all month. It's been such a great way to memorialize this time.
Posted by Tim and Jo at 10:55 PM | Comments (0)
December 19, 2010
Make that, our silly little gingerbread girl.
Posted by Tim and Jo at 9:41 PM | Comments (0)
December 18, 2010
We had to decide whether putting presents under the tree would be an irresistable temptation to little hands. We decided to try it out. So far, no opened packages. Just a lot of poking about and squeezing things.
And they tell me that they're not peeking. They're sorting shapes.
See, mama, it's a twiangle!
And Percy isn't peeking either. He's just...uh...looking for some lost cargo.
Posted by Tim and Jo at 10:12 PM | Comments (0)
December 17, 2010
So, I decided to make cookies with the kids today. Should have known from the mischief in their faces as soon as they put their aprons on that there might be trouble. And a shout out to "Aunt" Karen and "Aunt" Teresa--they adore their birthday aprons, thank you again!
Yeah. They *thought* they knew how to use the flour, and I turned my back to get something, and accidentally left the lid off the flour. We didn't get past cutting out five cookies before it looked like a blizzard had hit our kitchen.
The rest of the cookies were drop cookies. And I think the kids enjoyed their surprise afternoon bubble bath almost as much as they would have enjoyed making more cookies.
Posted by Tim and Jo at 11:59 AM | Comments (0)
December 16, 2010
Had some friends over today for craft time. Chatted with mommy friends, watched little ones running around, snuggled some really littles.
It's a little hard to see, but Elanor decided to trace the lines on the snowflake.
Posted by Tim and Jo at 11:12 PM | Comments (0)
December 15, 2010
Tonight seemed as good a night as any. So, we pulled out a CD of lessons and carols at Cambridge, and made some hot chocolate.
So did *you* know that you can make hot chocolate from nutella + milk (whisk together a bit of both, warm, add more milk)? Huge discovery here (found it in this list).
And scattered across the floor are parts of a present for Ian. We were at a thrift store a few weeks ago, looking through the toy section, with eyes half-on the kids just to make sure they didn't wander off. Didn't realize that Ian was carefully gathering pieces of a Sesame Street train set that was scattered throughout all of the toys. Figured if he'd put that much effort into finding it, it would be a good bet for Christmas.
I think Cookie Monster looks rather excited about the holidays.
Posted by Tim and Jo at 9:45 PM | Comments (1)
December 14, 2010
Tim's odd Santas come out every Christmas.
I'm rather fond of the smoking one in the middle. We've avoided answering--to this point--Elanor's question, "Why does Santa have a stick in his mouth?"
But I always find the one on the left to be rather hallucenogenic--why does Santa have multiple small Santas growing out of his hat? Is it a cloning experiment gone terribly, terribly wrong?* What exactly is Santa smoking in that jolly old pipe of his?
*Maybe that's how Santa can get to all of those house on one night!
Posted by Tim and Jo at 11:45 PM | Comments (1)
December 13, 2010
One thing we're loving about the age of three is our kids' developing sense of independence, and their eagerness to learn new things. So, we've been trying to incorporate them more into the daily rhythms of our house.
Tim taught Ian the mechanics of doing laundry.
A friend showed me a new cookbook for children revolving around the crockpot. I thought about it, but didn't get it. But it's definitely a great way to let the kids help, especially since it starts out cool. Here, Elanor's job was tossing potatoes into our lentil curry.
Posted by Tim and Jo at 10:14 PM | Comments (0)
December 12, 2010
Chilly evening tonight, everyone was tired. Curled up with It's a Wonderful Life. Realized we were out of eggnog, so I pulled out the cutest little cookbook ever,* and found an easy recipe for honey eggnog. Lovely and foamy for a winter night. And the first time I've attempted homemade eggnog.
We love It's a Wonderful Life, but we always get the giggles at the part where the music swells and it turns out that The Worst Thing Ever (worse than his brother dying and mom not recognizing him) is that his wife is a LIBRARIAN!
*The Pooh Cook Book
(Amazon Associates Link)

Posted by Tim and Jo at 10:26 PM | Comments (1)
Catching up, since we didn't have our camera yesterday.
Trying to use up leftovers creatively (potatoes and sweet potatoes) and came up with this hash, diced them and tossed them with some sausage and spices. Loved the autumnal color. Tim was tired from his finals this week, and the kids were pretty tired from getting over sickness earlier in the week, and I was a bit tired just from taking care of cranky kids. So, we took Saturday morning very slow, long breakfast, reading stories to the kids, and lots of snuggles.
Posted by Tim and Jo at 10:14 PM | Comments (0)
December 10, 2010
After the chill finally set in down South, we harvested the last of the green tomatoes, a couple of jalepenos, and the last of the green peppers.
And tossed them into a chili. It felt like a nice transition from garden season to soup season.
Green tomato chili1 lb. green tomatoes (or green salsa or tomatillos or canned tomatillos
1 butternut squash, cut in half and seeds removed
1 onion diced
1 jalepeno, diced (seeds removed)
1 green bell pepper, diced
4-5 garlic cloves, peeled
1 tbsp. chili powder
1 quart chicken broth (homemade, or good boullion)
Handful of cilantro, rinsed and chopped (save a little for garnish)
6 oz. frozen spinach (or other greens)
1 can chickpeas (or any white bean)
1 can navy beans (or any white bean)
1) Roast the butternut squash until tender (450 degrees for about 35-40 minutes). Cut off peel, dice flesh into bite-sized pieces
2) Meanwhile, sautee tomatoes, onion, bell pepper, jalepeno, garlic until tomatoes are tender (or alternatively, warm salsa). Mix in chili powder, cook until fragrant
3) Add broth, simmer for a few minutes
4) Add spinach and cilantro
5) Puree
6) Add cans of beans and butternut squash heat until warm
7) Serve, garnish with cilantro (or whatever chili garnishes you like). We served it with quesadillas.
Posted by Tim and Jo at 9:43 PM | Comments (0)
December 9, 2010
The happy, shiny version would be, "Oh yes, of course we made these today and got the pictures up on our blog right away!" The ministry of reality version is that we made them a few days ago, and while I was resting and battling a headache today, the kids snuck into the pantry and devoured all but a few small remnants of these.
We had lots of fun making them, though, and I loved the kids' earnestness as they rolled out the dough and carefully chose their cutters.
Posted by Tim and Jo at 11:00 PM | Comments (0)
December 8, 2010
Found these at our local dollar store--bags of little Christmas-themed foam stickers, and larger trains to stick them on. Both kids love stickers, and Ian is obsessed with trains, so we had a lot of fun making them and hanging them on the tree. If any of you have 2-4 year olds, this was a great craft. Limited mess, and they had lots of fun manipulating the stickers. They stickers also nice for homemade cards.
Actually--for the sake of keeping it real--Ian took the stickers off of his train, and took all of the stickers for a ride on the nutcracker express. But Elanor was kind enough to finish his off as well.
Posted by Tim and Jo at 8:31 PM | Comments (0)
December 7, 2010
Tim: The other night Joanna came home from a trip to the store all holly and jolly, sporting these plates she found. Of course the twins were thrilled with the opportunity to have a snack with Gingerbread Man and Woman.
Posted by Tim and Jo at 7:14 PM | Comments (0)
December 6, 2010
So, as an early Christmas present, we picked up this book, Drinking with Dickens, by his great-grandson.
Which is great for its documentation of drinking in Dickens. But as we sipped our first concoction "Dog's Nose," while watching the BBC version of the Pickwick Papers (most highly recommended, by the way), our thirst for authenticity was quickly quenched--it tasted much too much like its name. I quickly substituted some run-of-the-mill grocery store egg nog and pretended it was appropriate for the occasion.
Thankfully, our mulled wine was much more palatable, rather Bob Cratchety, or at least we'd rather like to imagine it was. (note: you can cook off most/all of the alcohol, if you'd like, you could certainly do the same with Dog's Nose if you were intrepid enough to try it)
And it allowed us to pull out one of our favorite lines from It's a Wonderful Life. "Mulled wine! Heavy on the cinnamon and light on the cloves."*
It's not the recipe we used, but here's a great site with mulled wine, and some more family-friendly mulled (non-alcoholic) cider.
In the words of Tiny Tim..."Atta boy Clarence!" Uh-oh, better stop mixing our drinks literary references.
*We don't need any characters in here to give the joint at-mis-phear.
Posted by Tim and Jo at 10:56 PM | Comments (1)
December 5, 2010
These are some of the nutcracker adventures we alluded to the other day. When they're not hiding in the inner recesses of tricycles, they take rides on Tim's childhood train.
They look like they're having a great time--the snowman looks particularly cheerful at his little outing. And I think the conductors are having the best time of all.
Posted by Tim and Jo at 11:26 AM | Comments (0)
December 4, 2010
The kids are having a fantastic time with their new "bump beds" (thanks to Pap!) with the tent that Grandma and Grandpa gave them.
Sometimes it's a "bump bed," sometimes it's a "double-decker bus," and now with the tent up and a little flap that Tim put on on the bottom, it's a split-level duplex. Kidding on the last one.
Posted by Tim and Jo at 10:05 PM | Comments (1)
December 3, 2010
Sometimes during the winter months--and summer months, too--we'll have a simple cheese and crackers sort of dinner. Cool during the summer, and cozy during the winter.
Tonight it was some homemade sweet and spicy plum chutney warmed with melted brie, summer sausage, crackers, vegetables, and homemade gorgonzola dip (yay for Penzey's spices!). And a bit of Dickens on the side.
I love the festive color of the chutney against the almost Christmas tree shape of the brie.

Posted by Tim and Jo at 10:09 PM | Comments (0)
December 2, 2010
And here's the tree in its current state.
We decorated with the kids, trying carefully--though not always successfully--to sort through the destructible vs. indestructible ornaments. It was a slow process, and we didn't quite finish.
Further, it gets surreptitiously denuded by little fingers. When bells and balls and snowmen disappear, we check under the hoods of their Big Wheels, the secret hiding place de jour.
So far, a few nutcrackers have been the crackees rather than the crackers. But otherwise, the ornaments seem to have enjoyed their jolly adventures with imaginative three-year olds (more on those later)!

Posted by Tim and Jo at 9:47 PM | Comments (0)
December 1, 2010
So we started Christmas a little early this year--and I'm bending the rules a little on the first day (since I took this a couple days ago)--but couldn't resist sharing this. It's the first "real" tree since the kids were born, and they "helped" us pick it out (though it seemed like they had picked out half the trees on the farm by the time we were done).
Posted by Tim and Jo at 3:14 PM | Comments (2)
So excited to be doing this again, thanks to Rebecca! We skipped last year as we we were overseas for the holidays, but we're most sticking around home this year.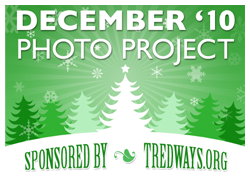 Picture to come later! And anyone is welcome to join the fun (see Rebecca's blog) for more information
Posted by Tim and Jo at 11:44 AM | Comments (0)
December 23, 2008
Merry Christmas everyone!!!
Disclaimer: Okay, with six kids four and under between my brother's family ( Jonathan and Beka Hastings ) and ours, it was great to have any pictures with all kids semi-motionless. Smiles and everyone looking? Good luck with that! Here's a picture that more fully reflects the reality of six kids in my parent's house this Christmas. It's kind of like Where's Waldo--you can find all kinds of things going on. Who can find the angel flying away from the manger? Where's the number five? Which kid is getting a little extra fiber in his diet? Who's getting bonked by a bottle?
It's the best Christmas present ever to have my brother and sister-in-law and all their kids around for Christmas. Hope you all have as much fun as we're having!
Posted by Tim and Jo at 8:59 AM | Comments (2)
December 17, 2008
Um, well, this December photo project didn't quite turn out the way I had planned. Combination of dissertation, leaving behind a camera, and just the general craziness of having twin one-year olds. So, I think I might just leave the numbering behind and just put up pictures as they come.
So, here are the puppets I just finished making for my brother's kids, thanks to this amazing tutorial. I put the pictures behind a cut (so, no peeking bro and sis-in-law!) (unless you really want to).
Continue reading "December Photo Project #?: Puppets!"
Posted by Tim and Jo at 10:30 AM | Comments (3)
December 14, 2008
We finally have our camera back, so stay tuned for some more Christmas themed pics!
Posted by Tim and Jo at 11:18 PM | Comments (0)
December 11, 2008
The kids loved visiting their "Aunt" Rachel, and can't wait until they have a new playmate!
Posted by Tim and Jo at 10:18 PM | Comments (0)
December 10, 2008
Still catching up...
Posted by Tim and Jo at 8:33 PM | Comments (0)
December 9, 2008
Better than Depp (& just as icky & sticky!)
*We left our camera at my parent's house, so all of the fun, new pictures will have to wait.*
Posted by Tim and Jo at 11:11 PM | Comments (0)
December 4, 2008
Yup! We are double-trouble.
Posted by Tim and Jo at 1:30 PM | Comments (0)
December 3, 2008
Posted by Tim and Jo at 9:51 PM | Comments (2)
December 2, 2008
Or "Why It Isn't Quite Christmas Yet at Our House"
Posted by Tim and Jo at 8:57 PM | Comments (1)